Becoming an Assessor
Alan's Journey
---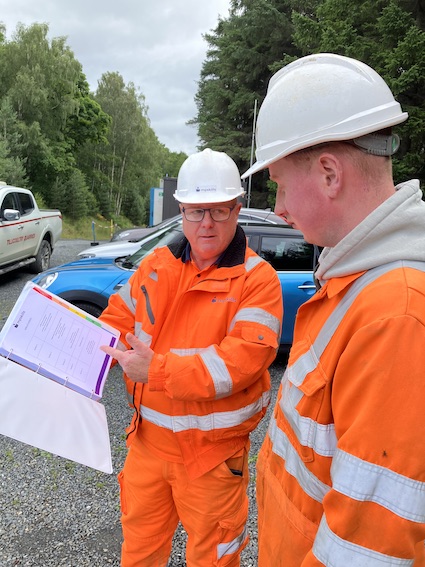 Realising a long held ambition, newly qualified MP Skills Assessor, Alan Monaghan, recalls his 13 month career pathway so far with MP Skills, which has taken him from experienced Quarry Manager to Qualified Assessor, now receiving glowing reviews for his plant scheme operator competency assessments and VQs on mobile plant and processing plants.
"My work in quarrying began in the mid-80s where I was trained in the operation of excavators, dozers, wheeled loading shovels and dump trucks, I initially wanted to follow in my fathers footsteps as a mechanical fitter but when offered the chance to operate mobile plant I took it, but I still kept my interest in mechanical repairs and the operation of machinery. I then moved into opencast coal mining and spent many years operating the same types of machinery, I was always keen to learn how to operate different machines and processing plants and gain more qualifications.
I returned to hard rock quarrying around 2006 and from there on learned more about the industry and the changes in machinery and processing plants. I completed an SVQ in processing and really enjoyed explaining the process of getting the raw materials through the plant to make the finished product. This was to stand me in good stead for my current role which includes delivering processing VQs.
I progressed from plant operator to Quarry Supervisor then Quarry Manager but I was still very much hands on, operating machines and carrying out repairs and maintenance as required to keep production going. I remembered being assessed myself many times for MPQC and I had always enjoyed being able to demonstrate competence and take advice from assessor's to improve myself. It was these experiences that lead me to join MP Skills and the opportunity to undertake an intensive Assessor pathway, by enrolling on the Level Three Assessing Vocational Achievement Course. It was the opportunity to build on all my experience and learn via expert tuition and shadowing of experienced MP Skills' Assessors on plant scheme assessments and delivering VQs. As part of this I was given the invaluable opportunity to spend time with customers such as Tillicoultry Quarries to gain extra CPD on the operation of some newer processing plants to gain full understanding and operational competence to allow me to be able to assess new operators. It's important to me to understand the machine or plant I am assessing to provide operators and learners with up to date knowledge and advice.
Working with a supportive team and the vast knowledge of colleagues including Andrew Atkinson, Brian Sullivan, Robert Wilson, Harry Sargent and Neil Peacock, I have now completed many VQs and assessments but I am still learning every day. I have built up good relationships with Quarry Managers but more importantly with the VQ learners and plant operators, treating everyone fairly and dealing with any needs they have is one of the most important factors of being an assessor I think, everyone is different. Never wishing to stand still I have been thinking about the next stage in my career, with ambitions to become a plant trainer. I have recently started a L3 AET course which is the first step to becoming a trainer.
Being an Assessor also provides variety, enabling me to work all over Scotland and the North of England with valued clients including Tillicoultry Quarries, Leiths, Geddes Group, Breedon, Hillhouse Group, AMP, Hargreaves Services, Paterson's Quarries and Thor Atkinson.
Progressing in your career will provide challenges and can be outside of your comfort zone, but the rewards of achieving success and developing your knowledge are worth it."